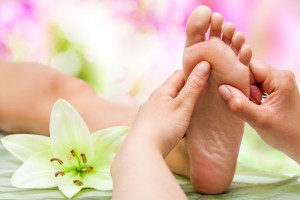 Reflexology | 90 mins – 2hrs | €80
A detailed Consultation will take place at the beginning of every treatment. This is to ensure you are provided with the most accurate treatment required. Aftercare Advice will also be provided. 
What is Reflexology?
Reflexology is a holistic method for activating the healing powers of the body. It involves pressure and massage to the reflex points found on the feet, hands, ears and face. The treatment is based on the principle that there are energy zones running through the body, connecting the reflex areas in the feet with all major organs, glands and body parts. Practitioners understand that health problems stem from blockages in these energy channels. The purpose of the massage is to unblock the channels and restart the flow of energy so that natural healing can occur.
There is no need to undress. You simply remove your shoes to be treated in a relaxing environment, designed especially for your individual needs. It is recognised that receiving treatments on a regular basis increases your physical well-being and reduces your stress level. The frequency of your appointments will be discussed with you, and will be based on your health condition.
How can Reflexology help me?
Reflexology revitalises a tired body, re-balances and restores physical and emotional wellbeing. While it nourishes and calms the mind, its powerful detoxifying effects will leave you feeling energised and refreshed. It:
• Reduces stress
• Improves your immunity
• Detoxifies the body
• Balances your hormones
• Stimulates the body's self healing
• Energises
Reflexology can assist in conditions such as:
• Stress related problems
• Pre-conception/Fertility, Pregnancy/Maternity & Labour
• Menstrual disorders (PMS, Hormonal Disorders)
• Polycystic Ovarian Syndrome (Ovarian Cysts)
• Digestive disorders (Heartburn, IBS, Hiatus Hernia, Constipation)
• Back Pain and Sciatica
• Sinusitis
• Stress & Anxiety
• Re-Balance Reproductive System after Miscarriage
• Headaches and Migraine
• Improves Focus
• Sleep problems (Insomnia) 
• Fatigue
• Thyroid Imbalance
• Calms symptoms of Menopause
• Blood Pressure
• Improve Symptoms of Arthritis
• Migraine
• General Aches and Pains (Shoulders, Neck, Knees, Hips, Back) 
• Joint pain
• Helps during Convalescence
• Urinary and Kidney infections
• Tinnitus
"Sharon is astute at guessing where her client is at from the moment she sets eyes on you. She is sensitive, warm and a good listener and an extremely good communicator. I am deaf and I really appreciated this. She has taught me a lot about myself and how to listen better to my mind and body." Jenny Sealey, Artistic Director OBE
"Sharon has great commitment and I was regularly touched by the thought and research she had put in for any query I had. She has a very responsive touch to a need and creates a very relaxing atmosphere" Jeni Draper, Actress, Director